Sunbloom, the functional sunflower protein
Functional, healthy, versatile and sustainably produced –
Sunbloom Sunflower Protein is the new, genuine alternative
to already established plant proteins.
Healthly, functional, sustainable
Pure all round - the Sunbloom Protein
Thanks to our patented production process, we obtain a functional sunflower protein with a protein content of 60%. Its light colour is a real advantage in terms of processing and application possibilities. It is purely plant based, free of genetically modified organisms (GMO) and does not contain any allergens requiring labelling. Our sunflower protein is produced in a highly sustainable way, since we at Sunbloom use all the components of the sunflower seed for human consumption instead of just using the valuable proteins and fibre as animal feed, no additional cultivation areas are required.
A gain for food production
Sunbloom - the versatile sunflower protein for your application
Bright colour, neutral taste, pleasant sensory characteristics: ideal for milk substitutes such as sunflower drinks, yoghurt, cream cheese or ice cream 

Naturally high content of dietary fibres and polyphenols, making it ideal for the production of extrudates, such as natural meat substitutes or high-protein breakfast cereals

Very good emulsifying and stabilising properties: Top substitute for egg and milk proteins, especially for the production of vegan fine bakery products or emulsions, such as sauces or dressings without allergens requiring labelling

 

Conserving resources thanks to

:

complete and direct use of the whole sunflower seed as protein and oil for human consumption

Production without the use of toxic solvents such as n-hexane

Production without the use of water in the extraction of the proteins
If you want to modify an existing formulation by using our Sunbloom proteins or develop a new product, our team of experts will be happy to help you:
Switching from animal 

proteins to 

sunflower 

protein

Switch from vegetable proteins (e.g. 

soya

) to sunflower protein

Development of new formulations for various applications
How Sunbloom sunflower protein is made
Peeling
The sunflower seeds are carefully de-hulled. The result is sunflower seeds that are easily digestible and have a particularly light colour. This makes Sunbloom Sunflower Protein ideal for the production of high-quality food ingredients.
Pressing
The hulled sunflower seeds are then cold pressed and de-oiled. The advantage is the gentle treatment preserves the valuable vitamins and the proteins remain native.
Extraction
Gentle extraction with food grade ethanol almost completely removes the remaining residual oil from the press cake.
Drying
In the next process step, the de-oiled press cake is gently dried at low temperatures to drive out the food grade ethanol without damaging the proteins.
Milling
The final milling (adjustable including very fine particle sizes of up to 40 microns) of the de-oiled, dried press cake produces valuable Sunbloom sunflower protein with a protein content of approximately 60%.
Textured sunflower protein
Sunbloom Proteins has exceptional texturization properties, in both Dry – Texturized Plant Protein (TPP), as well as Wet – High Moisture Meat Analogues (HMMA).
Sunbloom Proteins has developed its own Sunbloom Texturate for a wide range of final applications. Shorter hydration times, neutral taste with no off notes, reduction in need for masking agents as well as excellent bite properties are just some of the benefits. Applications of the Sunbloom TPP include Bolognaise, Burger, Emulsified Sausage (Bratwurst style) as well as inclusion in snacks or crispy baked products.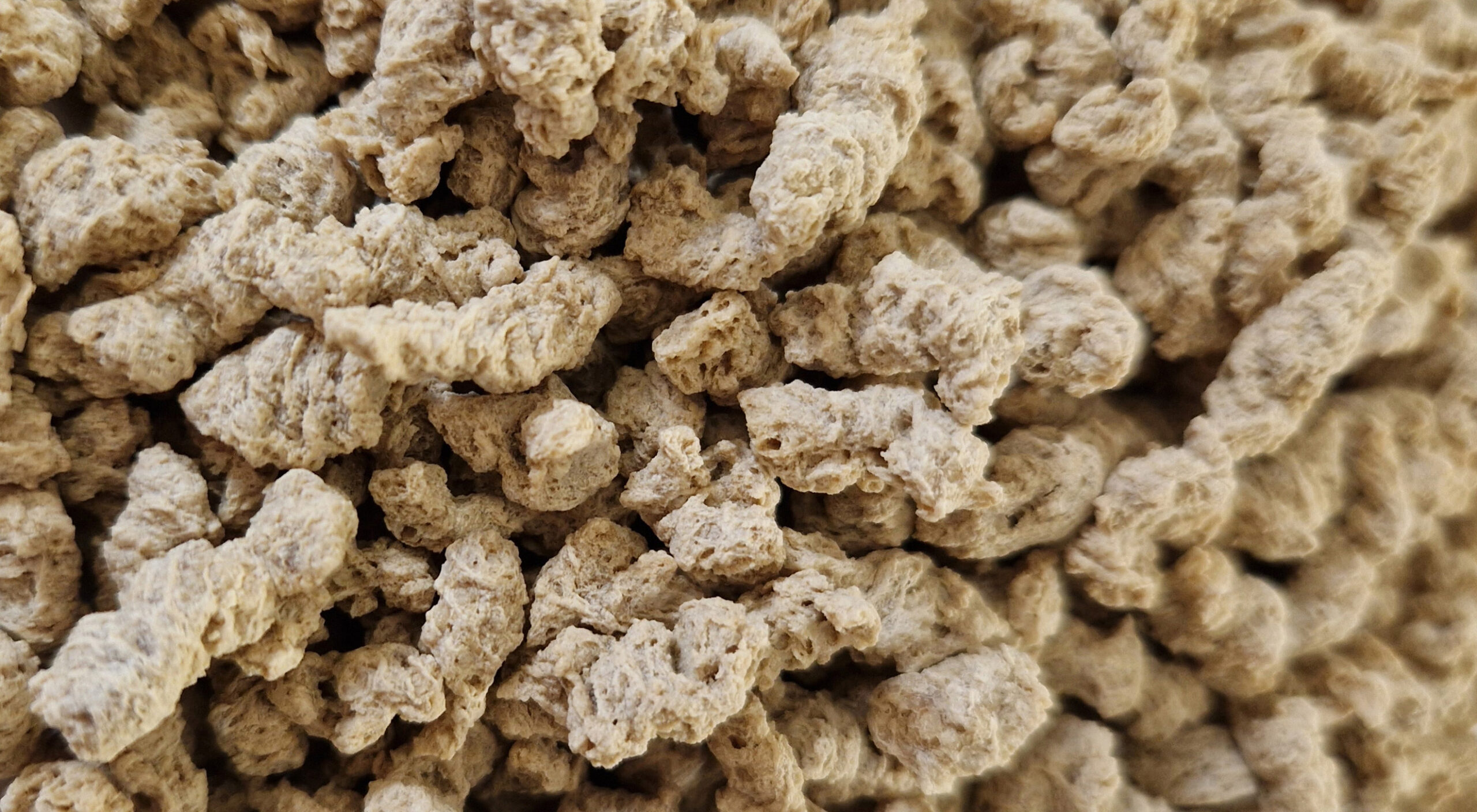 Sunbloom cold pressed sunflower seed oil
In our production process we produce not only protein but also a side stream of high-quality sunflower seed oil. This oil is cold pressed, from peeled kernels and undergoes no refining or chemical extraction process. Its typical natural taste, together with its intense golden yellow colour, vitamin and nutritional profile, makes it extremely versatile for a multitude of applications.